Dwain Johnson gave them a taste of success
School theater director to do one more play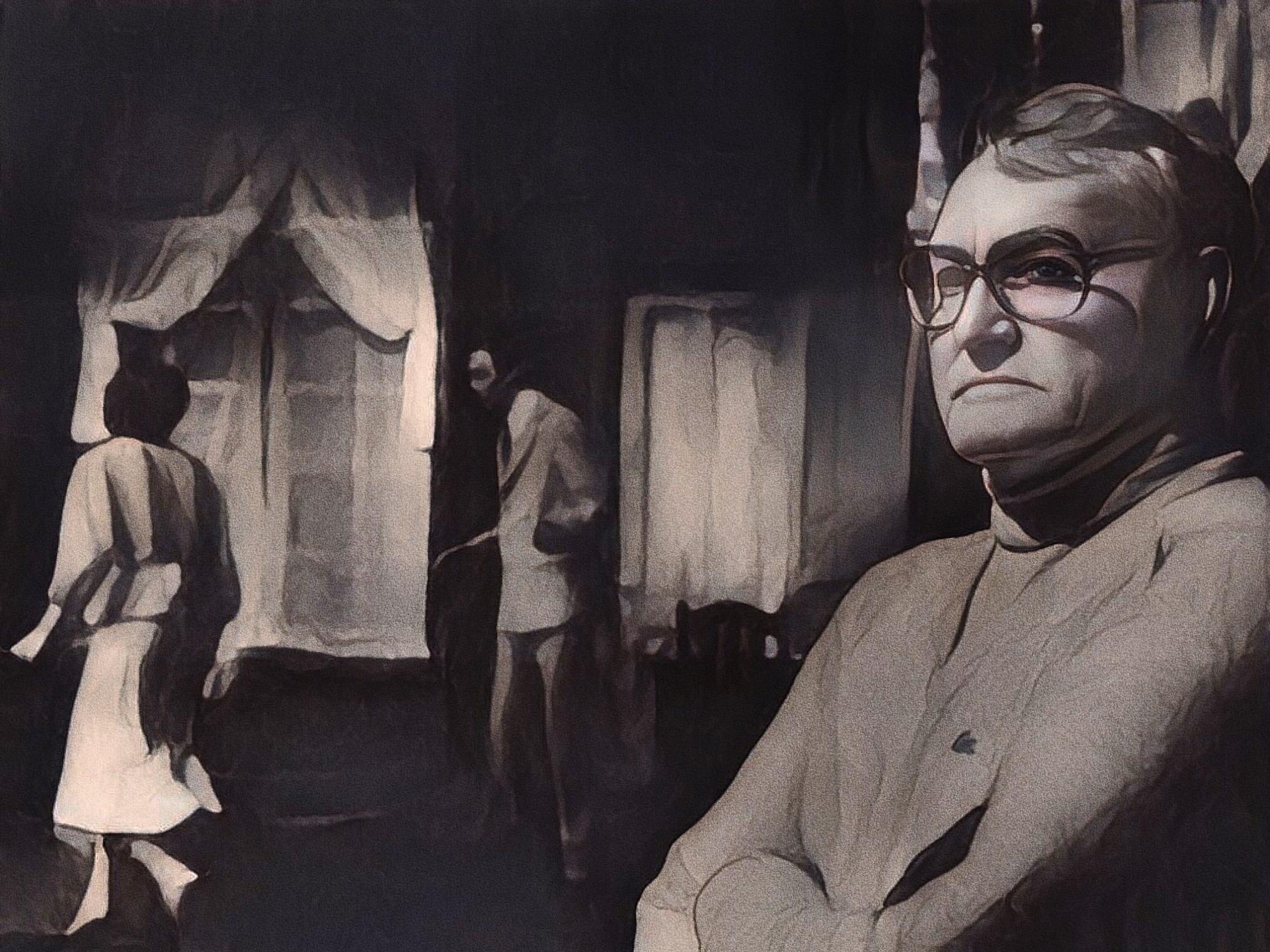 By PAULINE WALLE, Post-Bulletin Spectrum Editor
NOTE: This feature story was published February 3, 1983. It contains a startling reference to the special education class that can't be defended but can be explained as being the acceptable phrase of the time. It is the hope that the contemporary reader can celebrate that, over the years, understanding has increased and that Johnson was significantly ahead of his time by treating his special needs students with complete equity.
"Once I decided not to be so volatile. For two play rehearsals I stayed calm and things seemed to be running smoothly."

"The next day the entire cast came into my classroom. They said, "Why don't you like the show? Why don't you yell at us?"

"I hollered at them to get out, and they were grinning from ear to ear when they marched out of there.

"Kindness they can get from a lot of people. I give them a taste of success."

Dwain Johnson will be bowing out of the high school theater business after he finishes directing Arsenic and Old Lace at Mayo High School this weekend.

The show caps a 24-year career at Rochester's two public high schools.

"There are a lot of memories," he says. "This experience is my last with students, and it scares me."

Johnson isn't retiring. In recent and will be moving with it to the Educational Services Center.

"Mr. J." began his speech and theater career in 1944 in the tiny town of Barrett, Minn. He also worked in Staples, and he came to Rochester in 1959.

Never one to dodge difficulty or experiment, Johnson's first play at JM was Ayn Rand's The Night of January 16th which calls its jury from the audience and allows for different endings.

Audiences also will remember his moving The Miracle Worker, The Bad Seed and Of Mice and Men.*

Johnson figures he did one of the earliest local musicals with Oklahoma at JM and pioneered dinner theater with a Moliere production in [the] Mayo Cafeteria.

His reputation is a sort of tough love.

It is the kind of direction that barked Jay Toogood back into his duties as stage manager after he burned his hands fighting a fire; that put trainable retarded into a scene from "St. Joan", and cast blind Kevn Fjelstad in a sighted role. After that play someone had to ask, "Which was the blind one?"

"There's an aura about him of high expectations and they're usually met," says Barbara Achor, the staff member who succeeds Johnson as head of the theater department at Majo.

"His hallmark is 'Do it again.'"

Her colleague "treats the tech people like pros," she added. "He gives them a job, and also the authority. That kind of dignity and credit has built a strong crew structure."

Johnson reasoned, "Kids at the high school level don't see themselves as accomplishing that much and you have to help them pick a goal high enough."

Example: An actor portraying an older man in a wheelchair** had to make a snap turn. He failed several times until Johnson "heard the squeak of rubber and he showed me he had torn some skin on his hand. I asked, 'Was it worth it?' He said it was. He found out it wasn't impossible."

However if the goals are too high "that's unforgivable. It tends to place a stamp of failure on the act[or]." Johnson said.

He recalls the girl who couldn't shout her lines as he wanted. After awhile she cried trying, "and then she shouted at me in rage and we had it."

Along with the expectation "you have to assume the obligation to bring them up to it," he said.

High school students don't have that much opportunity to learn discipline "in the schools' authoritarian structure, Johnson went on. "So I apply it to them until they can handle it. If need be there's a show-down. I've gone toe-to-toe with them during the first week, not toward the end of the play when the rest of the cast would suffer."

"Mr. J" offers frank praise but doesn't bend his rules too much. One of them keeps cast members out of the front hallway between acts."

When the special ed students finished their part in "St. Joan," they proudly ran to the outstretched arms of their teacher, Lenore Hansen. "I savored the moment," Johnson says, "and then told them I didn't want actors out there."

However he's the first to insist students have to be themselves. "They're honest, and make good friends at that age. When a kid looks at you in the eyes with affection, it's real. Adults may have an angle..."

The drama coach switched to televising school programs at age 50, "at a time of transition when there's a tendency to get caught in the routine. I'm doing this while I still have the energy. And I created the job for myself, actually.

"I remember starting out with a video recorder and camera on a cart I wheeled from classroom to classroom. Brian Kahoi and I strung the first TV cable at Mayo." (Kahoi, a former student, stayed around to help the next two years and now is employed by Rochester Methodist Hospital.)

Johnson enjoys the limited amount of time it takes to prepare and finish a TV project compared to one for the theater.

He found the emotional pressures in getting ready for a play exhausting. "I can't sleep nights or hack the deadlines as much," he says. "I told myself I would do it until I couldn't run up the aisle and jump onto the stage."

Lately, he's been going around to the stairs.

Perhaps he's is doing the M*A*S*H bit, quitting while he's ahead.

"I've had nightmares all my life of facing a class and losing them," he explained during a break for lunch the other day.

Johnson worries a bit about "selling out.

But he reminds himself of something he's taught his performers:

"I've always told them to leave the audience a little hungry. If they had three songs, to sing two of them and have people wishing they'd had a third."

Staff members plan a reception for Johnson Tuesday at Mayo.
* Of Mice and Men was actually directed by Barbara LaBow and tech directed by Johnson
** The important distinction Walle missed was that the actor was wheelchair-bound. [See: Stories, Jim Kurpius]