Gustavus Adolphus College, St. Peter, Minnesota

WELLS? WELL! Orson Wells [sic] might not have been flattered, but the senior class night program was design[ed] as a possible imitation of his ideas. The audience was taken 2,000 years into the future and by means of radio and television, had a look back at the class of '43.

Bernhard Erling was master of ceremonies. The class history was read by Dwain Johnson, the class will by May Fosnes; music by Ralf Runquist on the oboe, vocal solos by Rosemary Le Vaque and Gordon Nelson. A skit, in the form of a take-off on a faculty meeting was presented by a number of the seniors. It must have been Orson Wells idea.

THE GUSTAVIAN WEEKLY, St. Peter, Minnesota, June 2, 1943
HANGING OUT WITH CARL SANDBURG

While in college, Dwain sat with Pulitzer Prize-winning poet and author Carl Sandburg for two hours. The legendary writer was visiting Gustavus on a speaking tour but there was a mistake in his itinerary and he arrived two hours early! Dwain was working at the college radio station and was assigned to interview Sandberg. He recalled that not only was Sandberg content to sit and wait but he was fascinated by my father's background in farming. "Here was one of the greatest poets of all time, sitting with me for two hours and all he wanted to do was ask me about farming."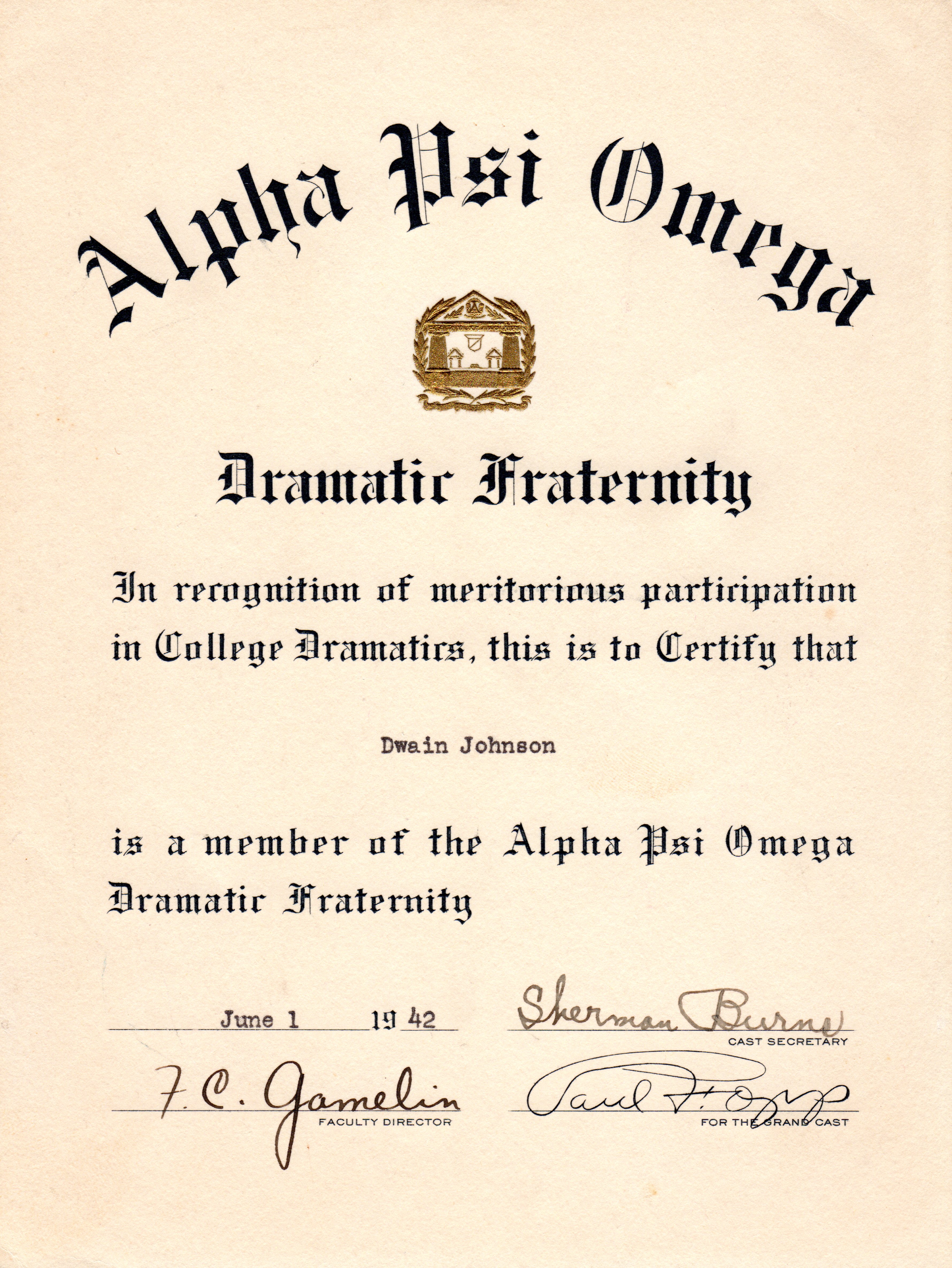 "Dwain Johnson plays the role of the malicious magician, Merlin"
Jeannette Hatlestad, left, of 203 E. Forty-eighth St., Minneapolis, and Danny Odell, center, of 675 Thirteenth Ave. N. E., Minneapolis, are amused as Dwain Johnson. right, of Elbow Lake. Minn. gets into character prior to rehearsal for the fourth Gustavus Adolphus all-college play, "A Connecticut Yankee in King Arthur's Court" by Mark Twain, to be given on the evening of March 20. Miss Hatlestad and Mr Odell play the important roles of Queen Guenevere and King Arthur respectively, while Dwain Johnson plays the role of the malicious magician, Merlin. THE ST. PAUL DISPATCH, St. Paul, Minnesota, March 13, 1942
Dewey wants it understood the beard is real
Delphine Brudelie, chairman of the costumes committee, works to find the best make-up to fit Dwain Johnson's portrayal of Captain Joshua. But Dewey wants it understood that the beard is not some of Delphine's work... it's an honest-to-goodness "no-shave" job. Delphine is a member of the Dramatic Production class where study is made of the proper use of stage make-up. The class gets actual experience in this work by serving on the production staff of the plays throughout the year.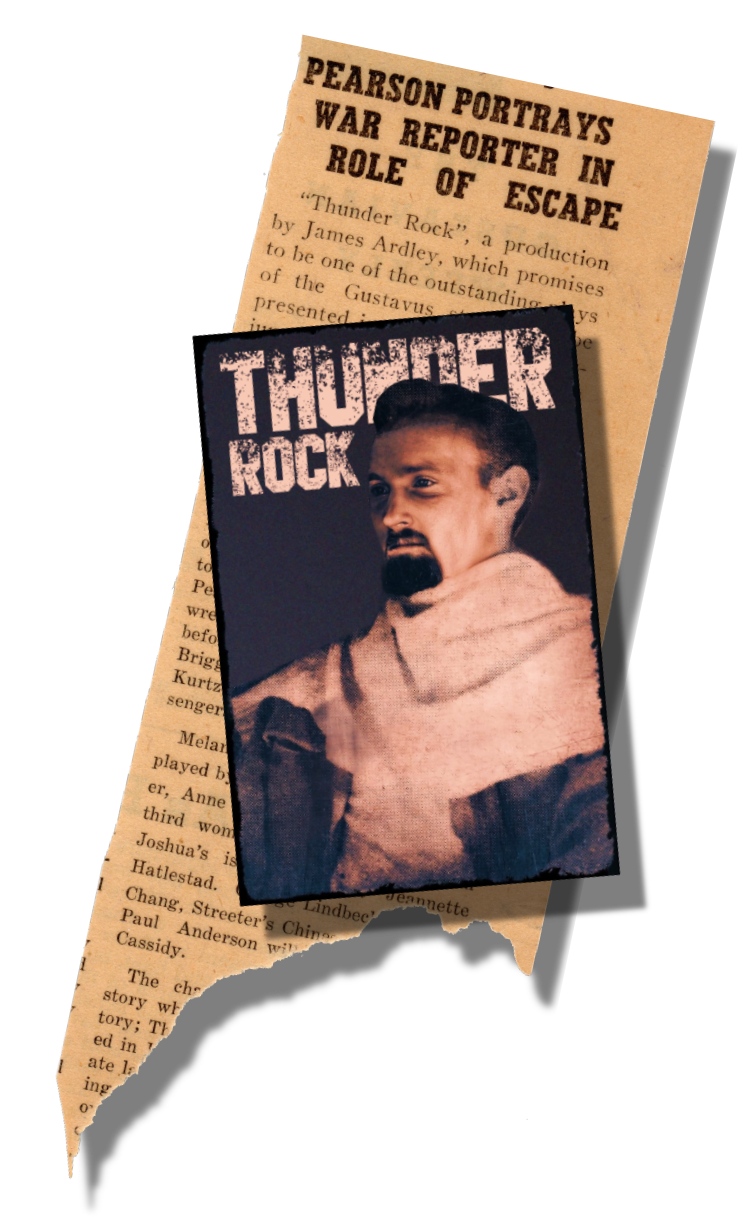 Costuming too, is not an entirely amateurish job, as phases of designing are also studied and put into practice in the Dramatic Production class.
Work on stage sets and lighting effects is also the result of the workings of this class. Flats and background are made changeable by the constant repainting and re-building the board arrangements.
PEARSON PORTRAYS WAR REPORTER IN ROLE OF ESCAPE
"Thunder Rock", a production by James Ardley, which promises to be one of the outstanding plays of the Gustavus stage, will be presented in the college auditorium on Monday night, April 5, at eight o'clock.
Director Francis Gamelin has worked with the following cast for Monday night's performances. Streeter, an aviator who makes Thunder Rock on his route is played by Burt Seaquist; Nonny, helper around the lighthouse, Ray Peterson; Flanning, the inspector, George Schwannenberg; Charleston, the lighthouse keeper, Sumner Pearson; Captain Joshua of a ship-wrecked off Thunder Rock many years before the story, Dwain Johnson; Briggs, Robeirt Bingea; Dr. Stephen Kurtz among the ship-wrecked passengers. Melanie, daughter of Dr. Kurtz is played by Dorothy Johnson; her mother, Anne Marie by Mavis Olman; a third woman passenger of Captain Joshua's is portrayed by Jeanette Hatlestad.
THE GUSTAVIAN WEEKLY, St. Peter, Minnesota, April, 1943